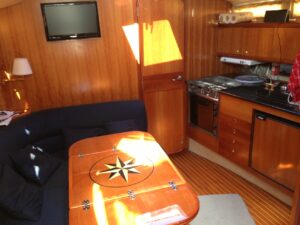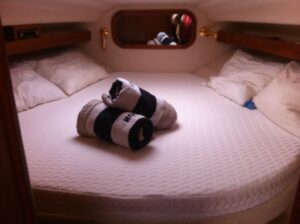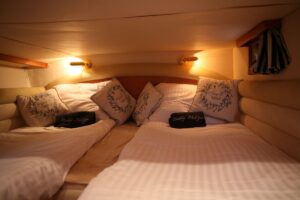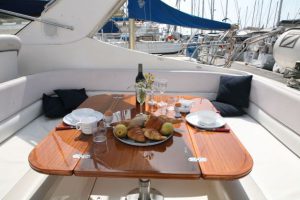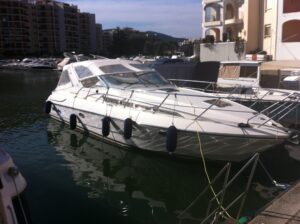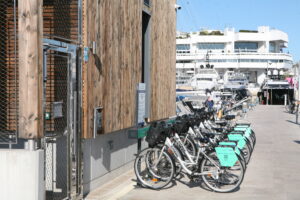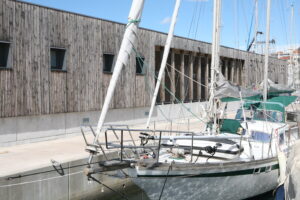 A yacht as your home
Staying on a yacht during congresses and the famous Film Festival has been increasingly been discovered by mainly professionals every year.
Avoiding the issues with taxi's and busses by staying only a few steps away from the Palais the Festival is experienced as very comfortable.
Inviting business partners on the yacht has proven to be succesful.
In the summer season our yacht is available for lodging during MIPIM, MIPCOM, LION'S , FILM FESTIVAL /GRAND PRIX MONACO, and TFWA(TAX-FREE). For other periods please contact us.
THE MILD WINTER OF THE FRENCH RIVIERA
The French Riviera was discovered by the British and Russian royalty to escape the cold climate in Northern Europe and hibernate in the mild climate of the Cote d'Azur. Today especially Cannes is very popular to spend the winter as the Palais the Festival and the Square Pantiero host a great variety of events , both cultural as professional, all year around. Always swinging!
YOUR HOME
The yacht contains a bedroom with double bed and a bedroom with two single beds. Clean linnen and towels are provided and spare sets are present.
In the salon is a kitchenette with small fridge, stove and oven. Crockery and cutlery are present. There are tv's, radio and public WIFI, a hairdryer, an iron and a small iron board. There is a seperate shower and toilet.
In the winter (1 november-1 april) the aft-deck of the yacht is covered with the spacious winter tent and in case the night might be a little chill there are mobile heaters. There is also a small fridge on the aft-deck.
Hundreds of restaurants are all around the harbour, many of them on 'Le Suquet', the hill right in front of the harbor. It is the most beautiful part of the center of Cannes.
In case you want to be your own chef there is a supermarket across the square Pantiero.
The harbor has its own car park under the square Pantiero with a harbor exit.
Taxis and busses are right in front of the harbor.
To enter the habor gate we will provide you the necessairry pass.
The old harbor of Cannes is not only one of the most idyllic harbors in the world but offers also very high standard services. In the main service bulding you find very clean toilets and showers, washers and dryers, beverage machines and even a small library. On the outside are freh water taps, still and sparkling water, the garbage containers and you can rent city bikes.
Guests on boats are not considered to use the toilets on board while in the harbor but to use those in the service building.
PRICES
During MIPIM (5 nights) and FILMFESTIVAL/GRAND PRIX (7 nights) the rate is €400 per night.
Other dates € 300 per night. A minumum stay of 5 nights.
Extra costs cleaning €100.